Ritual Jewelry Line: Mother's Love Mala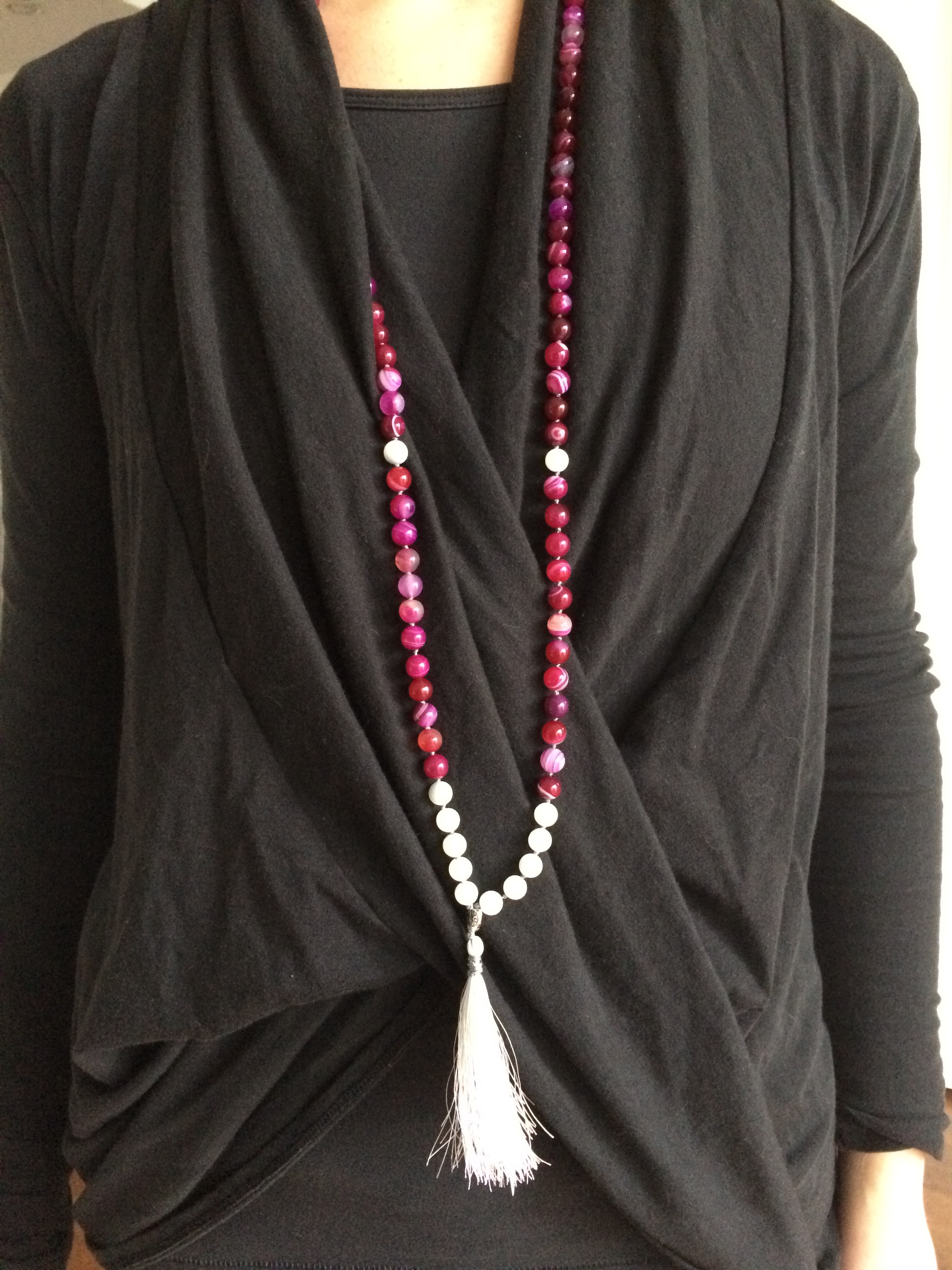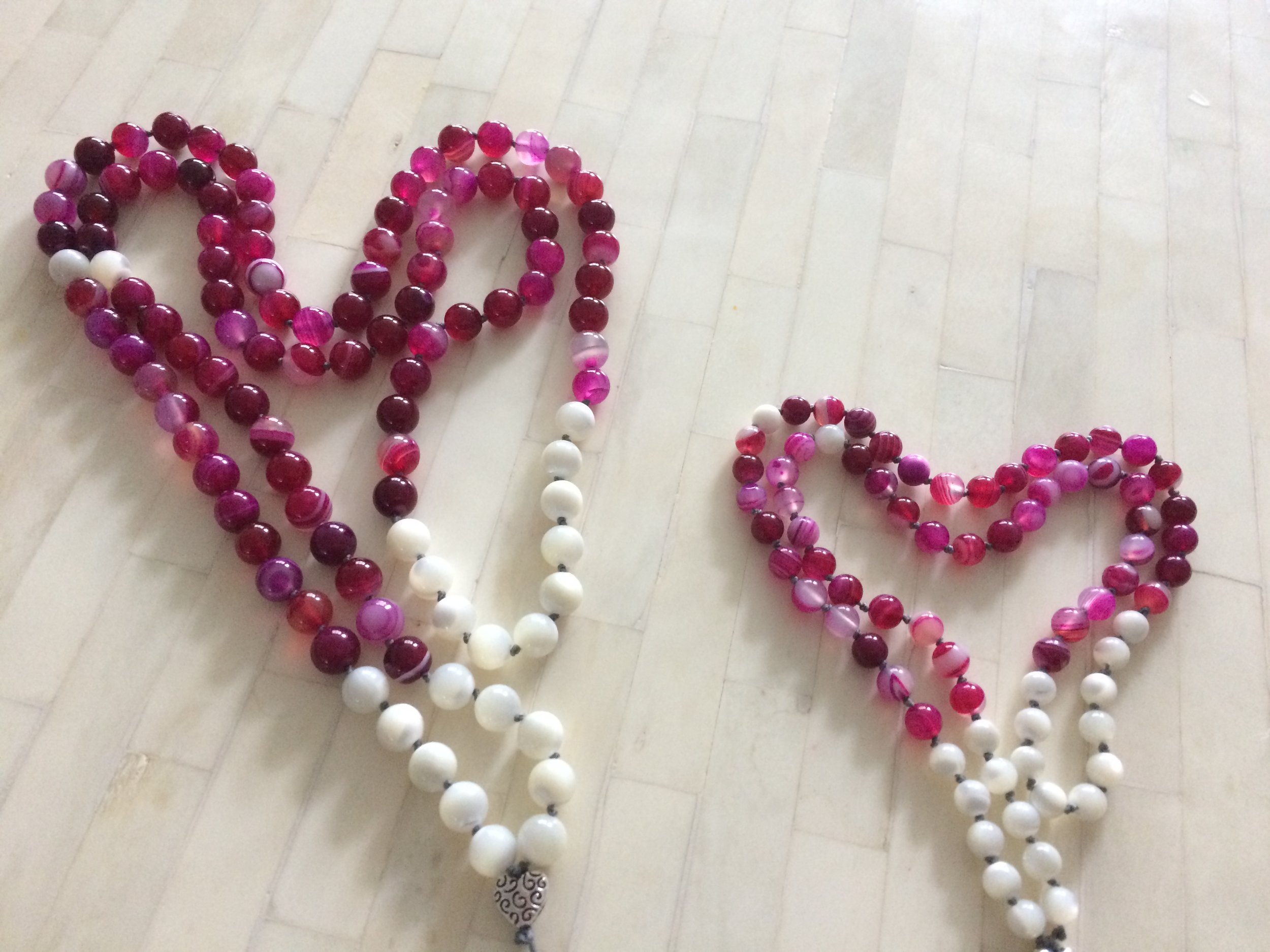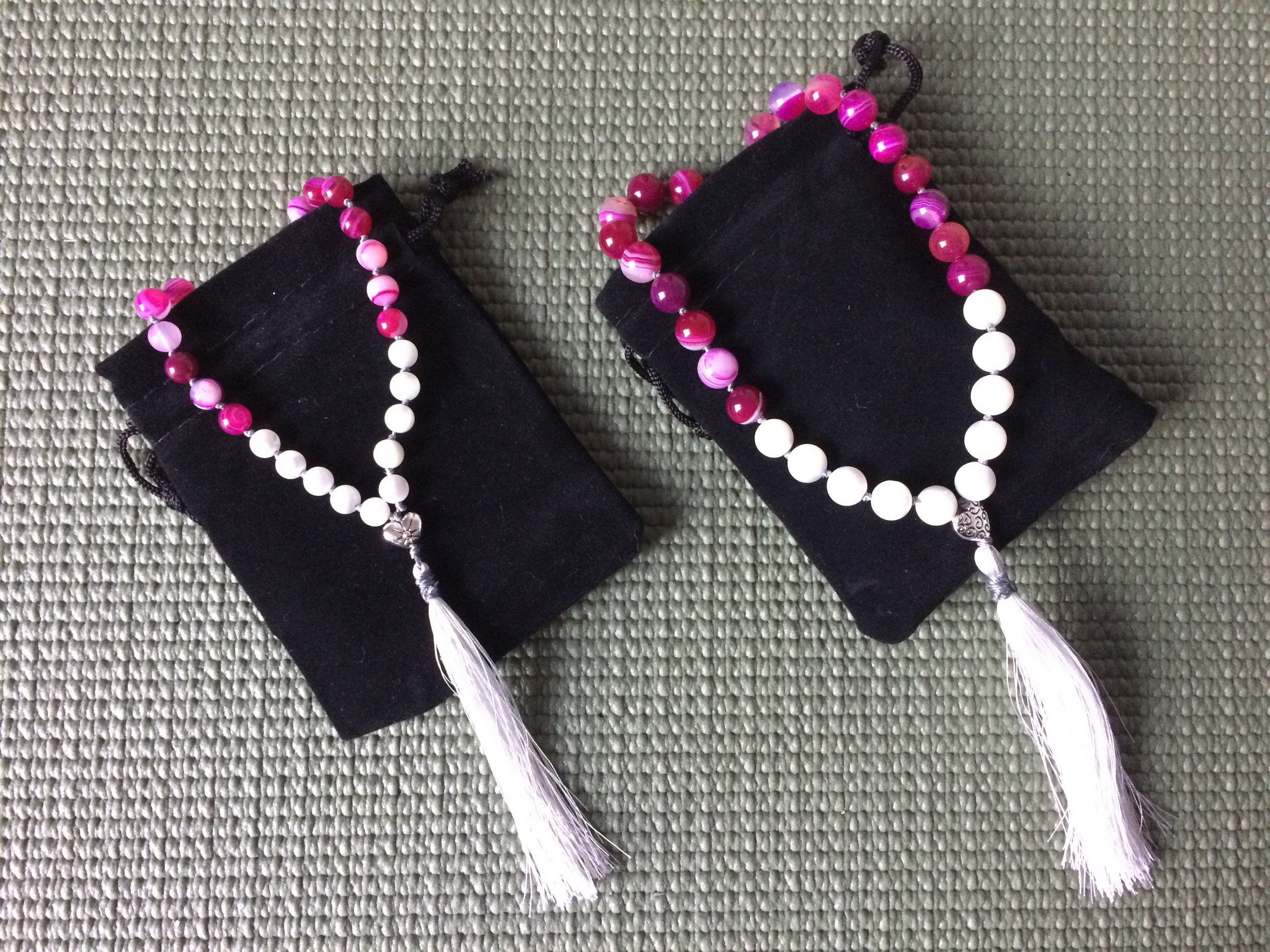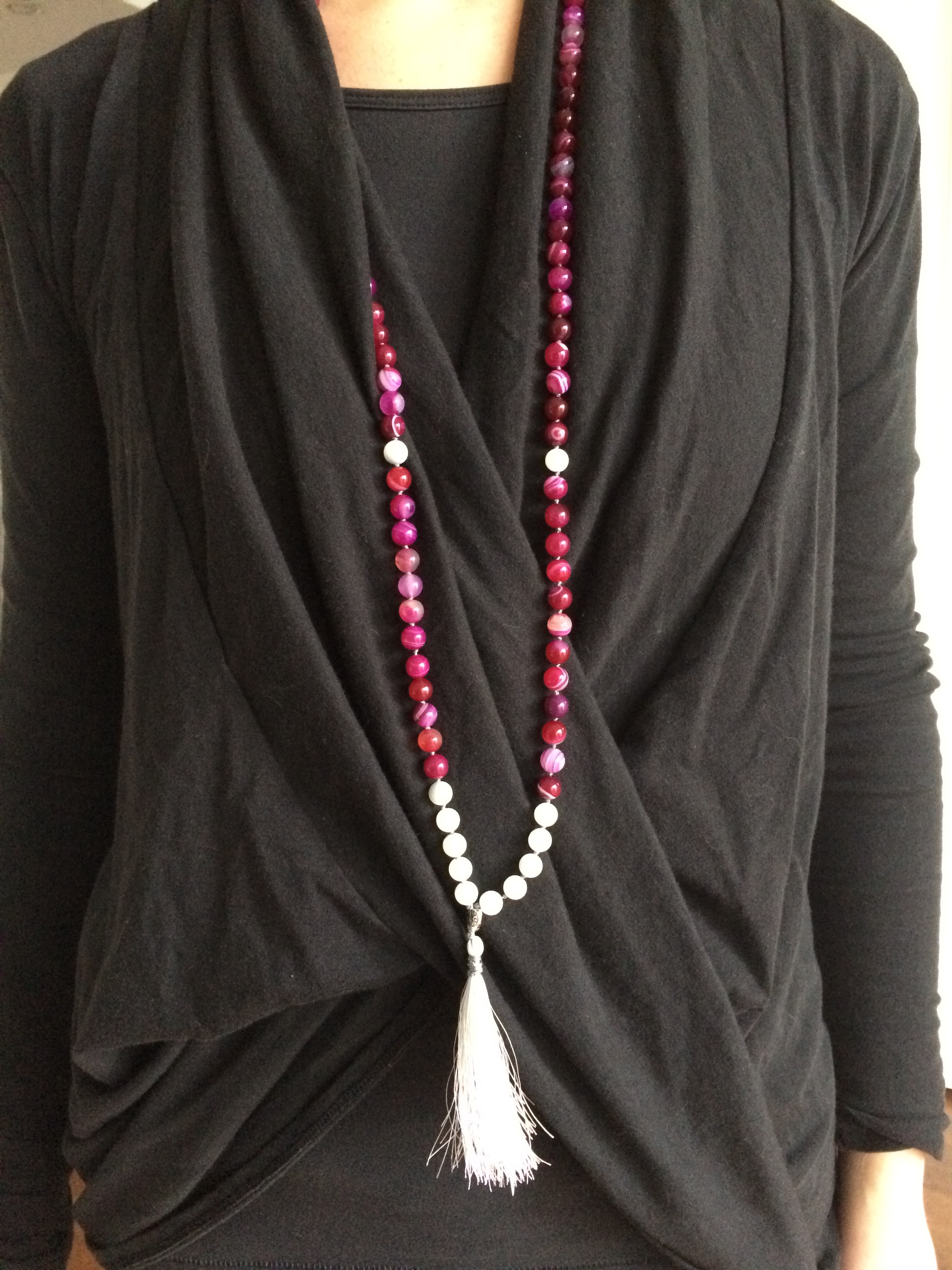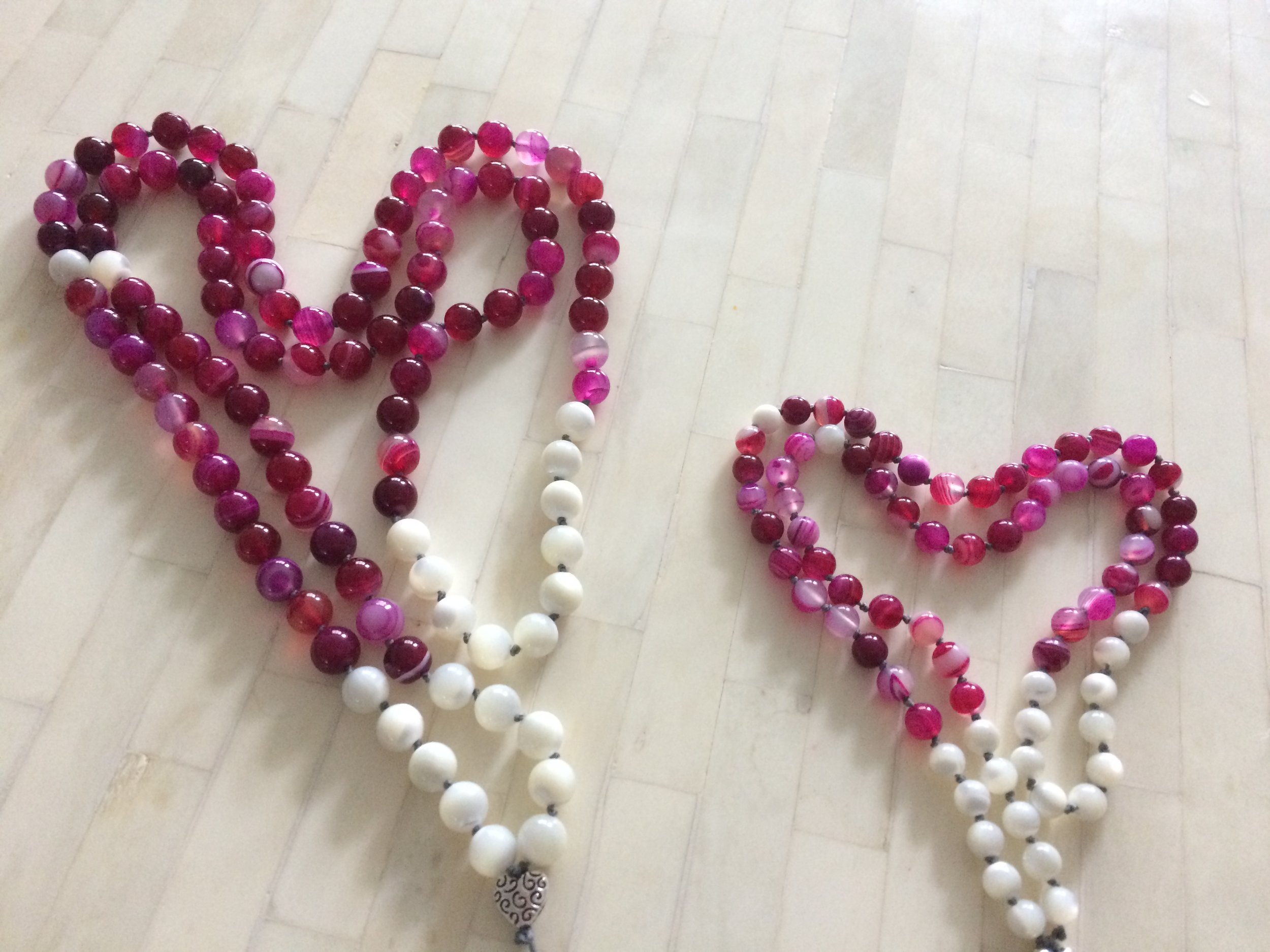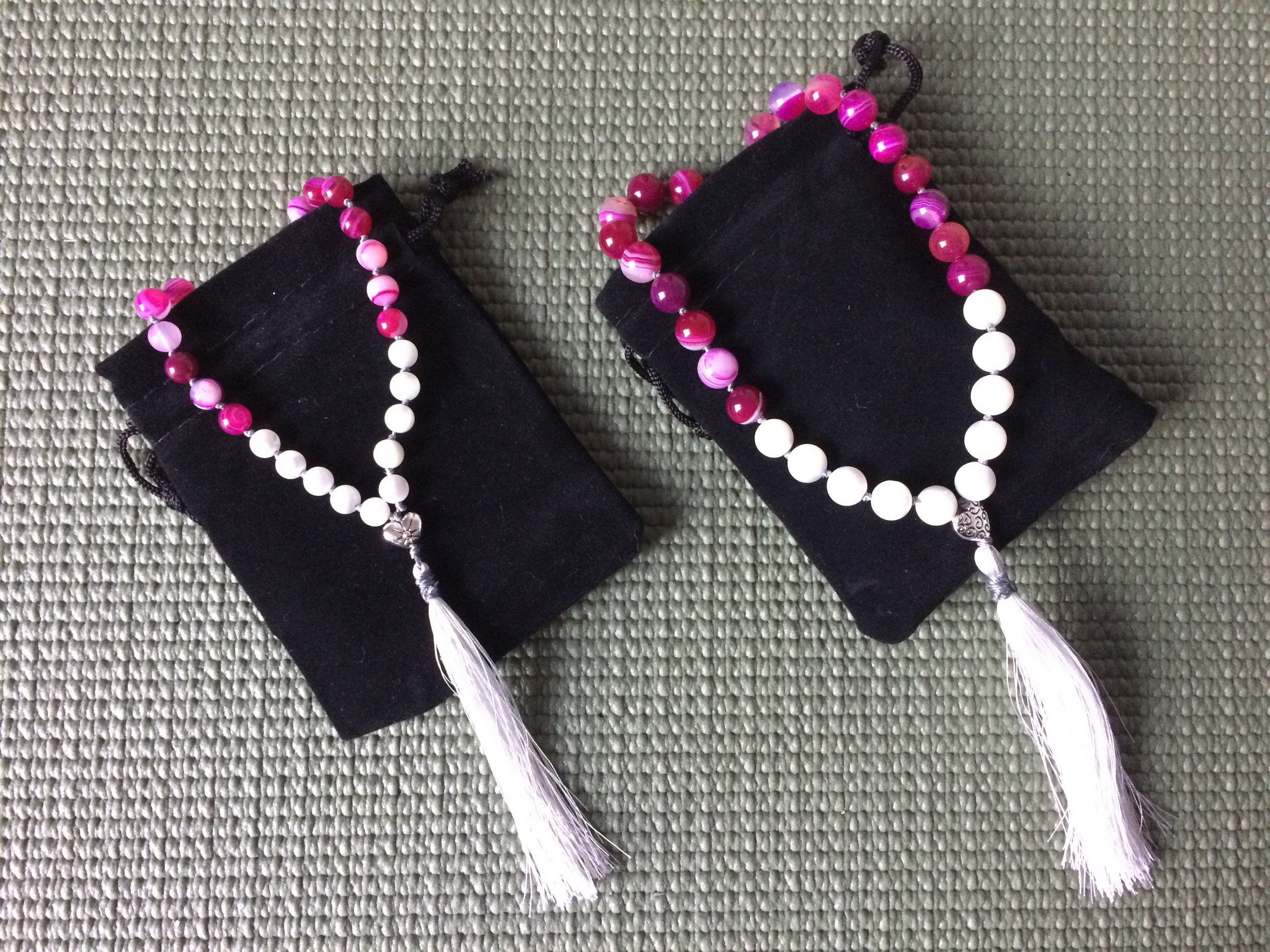 Ritual Jewelry Line: Mother's Love Mala
Monica Bookbinder has been creating gemstone and silver jewelry along with her husband since 2007 under m squared creation. These are the first available from Monica's Ritual Jewelry Line. The Mother's Love Malas are hand-knotted with lots of love. They are made-to-order just for you and make a very special item for yourself or for a gift. They've even had Motherly-love songs played to them (inlcuding Adele, Alicia Keys, Beyoncé and Madonna)!
*Please order by May 1st for Mother's Day Delivery. Please order by May 7th if picking up locally from 19128.
The adult mala is a traditional 108 bead mala, made with 8mm stone beads. The adult necklace measures approximately 44" in length with the tassel. Both have a guru bead (the small silver heart, beads made in Thailand. Hearts vary and are coordinated, but different on each). The child's mala is shorter and kid-sized, made with 76, 6mm beads. The child's mala is approximately 26" in length with the tassel. The tassel is light silver, made of 100% silk thread.
Buddhist prayer beads, or malas are used to count mantras or breaths in meditation. Hold your mala in your right hand, draped between your middle and index fingers. Starting at the guru bead (the heart), use your thumb to count each bead, pulling it toward you as you recite your mantra. Do this 108 times, traveling around the mala, until you once again reach the guru bead.

The stones used are AAA grade and include Pink banded agate and Mother of Pearl. Pink Banded Agate balances yin and yang energies, helping to bring a calmness of mind.It assists in relieving distress when reacting to situations beyond ones control. Pink Banded Agate strengthens bonds between parent and child.

Each necklace comes in a beautiful black velvet storage pouch with a card describing the stone meanings. Multiple necklaces are packaged in a reusable box.

You can also add a hand-made-to-order ceramic heart container. The child's is slightly smaller than the adult sized heart box. This makes a beautiful addition to the gift and is perfect for storing the mala. It is made with food-safe glaze, so could have uses other than for the jewelry as well.

A protection stone, Mother of Pearl brings the gentle healing power of the sea. It is a stress relieving stone; relaxing, soothing and calming to the emotions. Mother of Pearl stimulates our intuition, imagination, sensitivity and adaptability. It helps our emotions become more harmonious and balanced. Calming and soothing to temper or feelings of fear. It enables you to more easily express feelings of love. Mother of Pearl helps with clarity in decision making and is helpful for endurance, organization and for home life. Mother of Pearl's energy sings the song of motherly love as it imparts the feeling of being cradled in a loving mother's arms.

In the meaning of colors, magenta represents universal love at its highest level. It promotes compassion, kindness and cooperation and encourages a sense of self respect and contentment in those who use it. Gentle and caring in its approach, it generates acceptance, tolerance, support and patience.

Please note that healing meanings are spiritual supports and are not prescriptions or healthcare information.

10% of all sales from these malas will be donated to Life Cycle Woman Care in Bryn Mawr, PA. https://www.lifecyclewomancare.org/get-involved/donate/

Small parts: Choking hazard. Not for children under 3-years-old. Please note these are custom made and in some cases, slight substitutions will need to be made to the beads.

Made with love in Philadelphia, PA.